No lengthy waiting periods, no red tape, just a straightforward, simple process.
That's how every home sale should be, right?
In an ideal world, yes. But the reality of today's traditional way to sell a home – that is, listing it with a REALTOR® or real estate agent – is just the opposite.
For Virginia homeowners who feel like they're stuck with just the traditional way to sell their home, House Buyers of America can get you out of a sticky situation. We buy houses fast for cash in Virginia – without any waiting for an offer and without all the red tape. It's an ideal solution if you need to sell your home fast or sell a house As Is.
Understanding House Buying for Cash: What Does it Mean?
In Virginia, House Buyers of America is practically a household name. (We've been around since 2001.) As one of the oldest house buyers in Virginia, we buy homes throughout the state. People know and trust us.
A cash buyer is simply someone or a company that purchases your home with cash. Home-buying companies don't need to get a mortgage to buy your home, alleviating a lot of the back-and-forths involved in financing a traditional home sale and dramatically short-circuiting the time it takes to close.
We've been helping people out of sticky situations for years. While a convenient, cost-effective way for anyone who wants to sell a house fast, working with a cash home-buying company is an ideal solution especially if you're:
Facing foreclosure. Our fast cash-buying process can provide a lifeline during an incredibly stressful time, allowing you to sell so you can have the cash to do what you need.
Inheriting a property you can't maintain. Quickly convert that property into cash, saving you the burden of upkeep, taxes, and other ongoing expenses. All without making a single repair, too!
Needing to relocate. Have to move fast for a job or to be closer to family? A fast cash sale means you won't have to wait weeks or months to sell your home.
With House Buyers of America, buying your house for cash means:
A competitive cash offer in 10 minutes
Sell your home in 7 days
No Realtor or real estate agent commission to pay
No paperwork
No closing costs
No hidden fees
Cash-in-hand in a matter of weeks (not months!)
Bottom line, the cash home buying process provides you with a smoother, quicker transaction without all the hoops and hurdles that traditional house sales often involve.
👉 FAST FACT
According to Zillow's research from June 2023, the average Virginia home value is $371,623, up 2.8% over the past year, and goes to pending in around 7 days. Add on an average time to close (if it does) of 30-60 days, you're looking at an average time to sell a home in Old Dominion of one to two months in today's market.
Benefits of Selling to a Cash Home Buyer
Selling your home As Is: No costly repairs, time-consuming renovations, walk-throughs, or open houses.
Faster sale: We know that when you're ready to sell, you're ready to sell! Nobody should hold you up or bog you down with paperwork and a seemingly never-ending sales process.
Quick cash: You get your cash quickly – often in as few as seven days! – to use for what you want it for. It's that simple!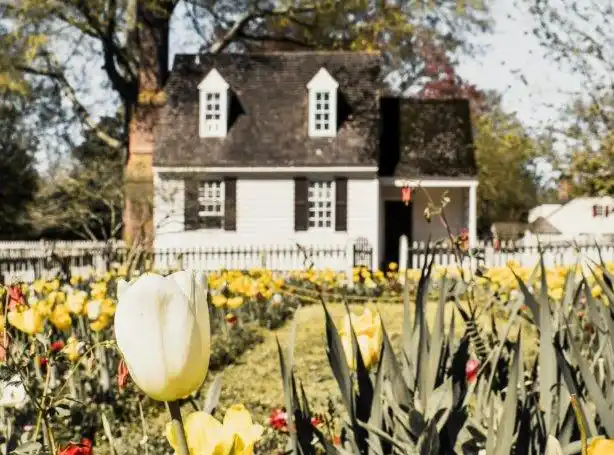 House Buyers of America buys all kinds of houses, in any shape, size, and price range. It all starts with filling out a simple request form, or just give us a call. Within 10 minutes, you'll have a competitive, no-obligation offer on your home.
If you decide to accept it, one of our expert real estate consultants will schedule a visit to your home to review the information you've given us and explain the 'next steps.' (Don't stress. This isn't like an open house. You don't need to clean up anything or make your home "show ready" in any way. You know, just think of it as having family over. 😉)
Afterward, we'll handle all the closing details and arrange a closing date that works with your schedule. We can even adjust the timeline if you need to.
Just like that, your house is sold! All you have to worry about is how you're going to spend all that cash.
What Do I Get If I Sell My Home to House Buyers of America?
Here are a few more advantages of selling your home to House Buyers of America. In addition to fast cash for your home, you get:
Speed. Traditional house sales can drag on for months, a waiting game that can be very stressful. With House Buyers, we streamline everything, making it possible to sell your house and have cash in hand usually within just a few weeks.
No need for home repairs or improvements. If you've ever tried to sell a house the traditional way, you know that fixing it up for sale can be expensive and time-consuming. With House Buyers of America, you can forget about all that— we buy your house exactly As Is.
Certain sale. Nothing is more frustrating than a sale that falls through at the last minute because the bank doesn't approve the loan. Once we've made an offer and you've accepted, that's it. The deal's done and the money is yours.
No commissions or fees. Traditional real estate sales can come with a hefty commission fee you have to pay out of the proceeds from your home. When we buy homes in Virginia (or anywhere), there are no commissions to pay. We don't charge any fees either when we buy your home, so you get to keep all the proceeds in your own pocket.
A simple process. No need to go to anyone's office. You can literally sell your house sitting in your pajamas from home if you want. Talk about convenience!
So, if you're not stuck on the idea of a traditional home sale and find skipping the endless showings, negotiations, and uncertainty of listing your home appealing, House Buyers of America offers a refreshingly straightforward alternative.
Our team is always ready and eager to make you a free, no-obligation offer on your house. You're just a call or click away from a guaranteed cash sale!